The Background
PTC being amongst the leading corporate group in India visualizes meaningful, sustainable CSR programs, positively impacting lives of the marginalized section of society and effectively contributing towards India's development goals. In tune with the Schedule VII of the Companies Act, community is the focal point of CSR activities and the aim is integrating CSR into the core operations of the Company.
In line with the corporate social commitment, PTC has established "PTC Foundation Trust" in October 2016 to professionally and effectively undertake the activities pursuant to the CSR vision of PTC and the group companies.
Logo and descriptive narrative of PFT

The Logo Colours (Sunrise Orange & leaf green) are the house colours of PTC Group Companies. Leaf Green represents our concern for the environment and community. Sunrise Orange represents the eternal source of energy. Together the two colours represent the harmony between the energy of business enterprise and its symbiotic relationship with the communities that its businesses serve.
The Orange part of the logo signifies PTC Group as a live being; joyous and aspiring to expand its presence in every aspect of communities and their lifestyles. This part is extended in harmony with the green part of the Logo which represents the needs and beliefs of the communities. The extended shape of the green part stands for commitment to the communitys sustainable growth. The uniform and transparent space between the two parts of the Logo represent confidence, faith and trust which allows both parts to co-exist as a whole; in harmony.
The tag line empowering Community with a capital P articulates our link to the power industry and our mindfulness of the responsibility towards the community that sets no boundaries on the entreprenencial spirit of PTC Group.
The synergistic relationship between the communities and our business operations lead us to include various societal objectives like capacity building, womens empowerment, health & sanitation and distributed energy in our CSR programmes.
PTC Foundation has been engaged in undertaking a wide range of CSR activities with focus on Women Empowerment, Girl Child Education and their Empowerment, skilling youth and farmers, all from socially and economically disadvantaged communities. The programs are also aimed towards promoting Renewable Energy (Solar Power), supporting Differently Abled Persons, public health and hygiene and Empowering Farmers towards livelihood improvement.
All the above activities are targeted towards the economically weaker sections of the society to fulfill the social commitment of PTC and also enhance their Corporate Image as a company committed towards fulfilling the felt needs of the relatively disadvantaged sections of the Society.
Extra Curricular Activities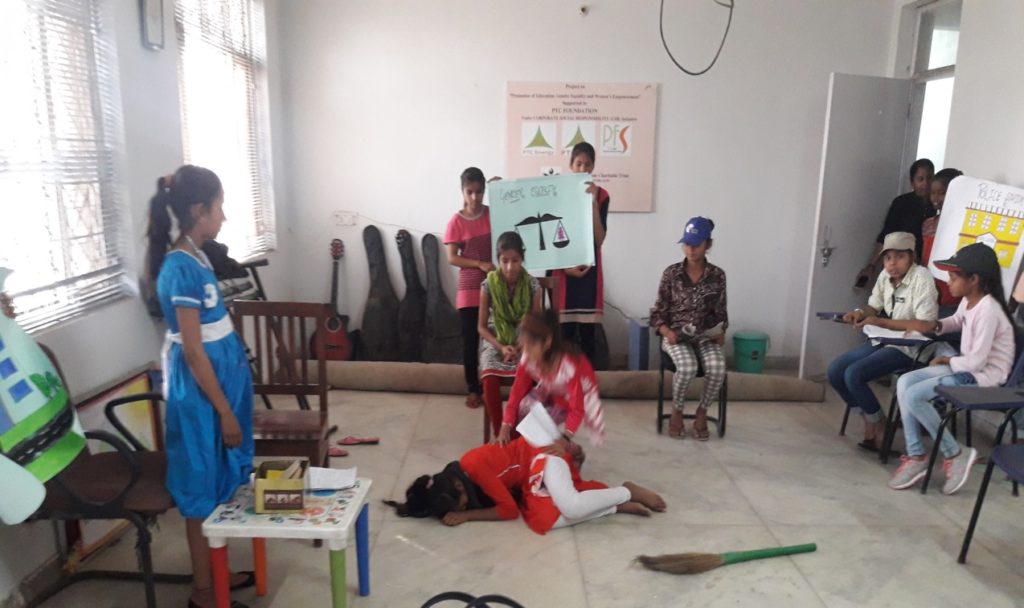 CSR Activities
The important initiatives which have been taken by PTC India through the PTC Foundation is briefly given below:
Sanitation, health and hygiene is an integral part of any society for a healthy living. PTC has made efforts towards this by maintaining the sanitation and hygiene near the surrounding of its work place by covering 40000 Sq. Mtr. area near its office at B. C. Place. It has built a robust corporate image for PTC, appreciated by several thousand people moving in this area. PTC has further taken up modernization and renovation of two community toilets in the B.C. Place Complex for providing clean, hygienic and bio-digester based toilets for the community. The toilet complex near MTNL building was inaugurated by Shri Deepak Amitabh, CMD, PTC India Ltd on 4th May, 2018.
More than 100 women are associated with this noble cause and are working as Mobilisers who further propagate their acquired skills and confidence amongst other women in that area. Their families are also benefited in this process as it is said that a women empowered and educated empowers the entire family.
Under this initiative a major benefit goes to more than 200 girls for their after school hours coaching and also overall development to make them confident enough to face the society.
PTC has also encouraged three meritorious girls from this section to study in higher class i.e. 11th and 12th by sponsoring their expenses in private school.
Contributing to the cause of reducing consumption of fossil fuel and promoting Renewable Energy, PTC has funded installation of solar panels on the roof top of two kitchens of Akshaya Patra Foundation at Lucknow and Vrindavan. This will help reduce the load on grid and in turn contribute to carbon reduction. Moreover, due to this initiative and saving in the cost of power, PTC has also contributed towards nearly 1.5 Lakh extra mid-day meals to school going children in these areas. Thereby, PTC has been continuously endeavoring to reach and benefit the Society at large.
Keeping in view the needs of the Differently Abled Persons, who mostly come from the economically weaker sections of the society, PTC has partnered with ALIMCO for providing tailor made equipment to 287 beneficiaries from this segment of society. During the Camp in Gautam Budh District of Grater Noida wheel chairs (Motorized and Non-Motorized), hearing aids, crutches, smart sticks for blind were distributed to the needy people.
Skilling the youth of India and making them employable is one of the utmost social need of our Country. Any contribution towards this end not only benefits those undertaking training, but also their families. With this noble cause in mind PTC has sponsored training of 250 youth who are school dropouts and coming from economically weaker sections of the Society, in various trades ranging from health care areas to technicians for service sectors. Aim is to ensure their employment in the basic health and service sectors. The trainings are being imparted at modern training facilities in Noida and Gurugram.
Empowering the rural communities in remote areas of the country always results in empowering the Society as well as the country at large. A strong rural base is always a strong foundation for the country, apart from improving the livelihood of the rural poor. A. Towards this goal PTC has launched a project to empower 1550 economically rural poor women in Alwar District of Rajasthan through their capacity building and collectives. B. It has also undertaken "Gram Utthaan" project in five villages of Muzaffarpur District of Bihar, which would benefit 500 farming families (approximately 2500 people) by empowering them to develop their villages through a multitude of activities. All these activities are linked to increasing their livelihood from various interventions.
Toilet complex near MTNL building inaugrated by Shri Deepak Amitabh, CMD, PTC India Ltd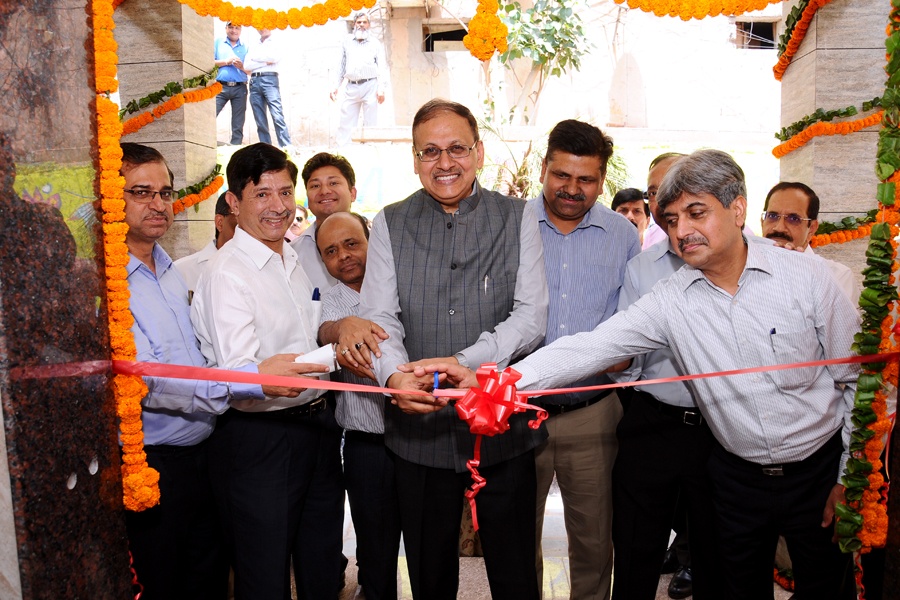 Night view of the outside of the toilet complex building